Are your Production Networks protected sufficiently?
2U Network Security Appliance with up to 32 LAN ports for use in industry

1ST-embedded GmbH, Sven Trommer
2U Network Security Appliance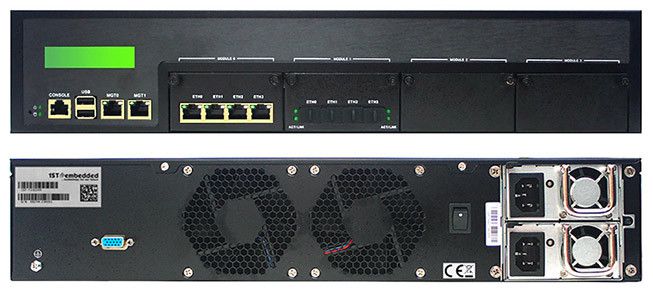 Industrial Network Security
2U Rackmount Network Appliance with modular Hardware Concept up to 32 LAN ports, Redundant Power Supply,
Extended Temperature Range
Industrial plants are increasingly connected to corporate networks and the Internet via the TCP/IP protocol. This should not be done without adequate protection. The systems must be protected against attacks from the Internet and the company network. Industrial networking security appliances that work reliably under the often harsh production environments are ideal for this. Often it is necessary to protect several subnets and to regulate the data flow between them. It is advantageous to be able to react flexibly to possible changes by using a modular hardware concept. In the event of a fault or power failure, the BYPASS functionality can be used to specify which networks should be connected to one another in order not to interrupt network traffic
The 2U Network Security Appliance 1ST-F23224R with Intel® Xeon® E3v5 / E3v6 CPU or Intel® Core™ i3/i5/i7 processor and up to 4x LAN Expansion modules for max. 32 LAN ports at all is a robust device, wich can be used in non-conditioned production plants due to its relatively wide temperature range. It is flexibly adaptable for the respective network. Various LAN modules are available for use, starting with 4x RJ45 Gb Ethernet ports with the LAN module  LAN module 35N4  or 4x SFP Gb Ethernet ports with the LAN module 35F4 based on Intel® Ethernet Controller I350-AM4 over 4x 10 Gb SFP ports with the  LAN module 71W4 up to 2x 40 Gb QSFP+ LAN module 71Q2 with Intel® XL710 Ethernet Controller.
For customers who can not do without BYPASS-functionality  even with fiber connections we offer the module 58B2 and 59B2 for Gigabit and 10 Gb speeds. The BYPASS functionality can be used to ensure that important communication paths are maintained in the network in the event of a hardware failure or power-off. This is especially useful for so-called in-line servers such as Intrusion Detection and Intrusion Prevention Systems. In order to achieve the maximum LAN port number of 32 ports we offer 2 modules each with 8 Gigabit ports -  58N8 with 8x RJ45 Gb Ethernet and 58F8 with 8x SFP Gb Ethernet ports based on proven Intel® Ethernet Controller 82580EB. 
This modularity of network connections makes your investment in the 2U Rackmount Network Appliance future-proof: the number of network ports and type of connection (cable, fiber, 1Gb, 10Gb, 40 Gb) are always customizable for future expansion of your network. 
The Hardware Firewall we offer is compatible with Linux and FreeBSD in addition to Windows. Thus, you can use various Firewall Software or IDS / IPS software on the devices to protect your network. Of course, we take into account your wishes regarding the memory equipment of the devices. For the full utilization of the operating temperature range of  -10°C to +50°C in the minus temperature range, components that are specified for an extended temperature range can optionally be used (DRAMS, mSATA-SSD and HDDs or SSDs).
Since the devices normally work in 24/7 operation, we have provided a redundant 350W power supply as standard. If you work with a redundant system setup with 2 devices each, we can optionally also install non-redundant power supplies.
Our product range in the area of Network Security Appliances also includes Fanless Industrial Firewall Appliance with 6x RJ45 Gb Ethernet ports for rough purposes.
Of course, our appliances can not only be used in the industrial sector, but can also be used to secure company networks, the connection of locations or devices of employees via VPN etc. By using open source software, you can also significantly reduce costs. 

We are looking forward to your contact!